August 2nd 2022

The faces behind the CARE work-packages – WP5
The faces behind the CARE work-packages – WP5
CARE (Corona Accelerated R&D in Europe) is the largest European research initiative addressing the challenges of COVID-19. It is no surprise that it is designed in a comprehensive, yet agile, structure to fulfill the 37 partners' shared key goals: (1) to identify therapeutics for the current pandemic, (2) to identify antiviral therapies for future outbreaks and (3) to increase the understanding of the pathophysiology of COVID-19. In a set-up of eight work-packages (WPs), the scientists and management at CARE carry out the project activities that have so far resulted in valuable learnings about COVID-19 and how it might be defeated.  
In this monthly series, we go behind the scenes through brief interviews with the leadership of each of the eight CARE work-packages to hear insights on what makes their work so special, as well as their challenges and hopes.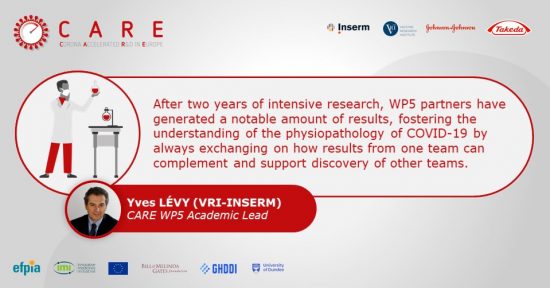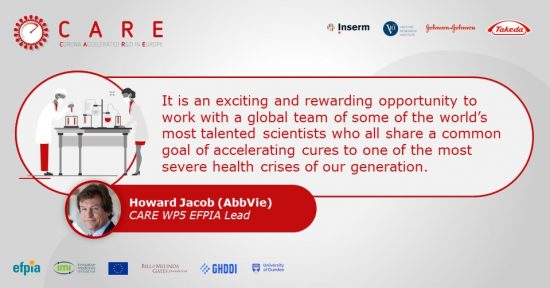 WP5 – System Biology 
The CARE work-package 5 (WP5) aims to decipher the physiopathology of COVID-19 through combination of complementary OMICS-based approaches, and longitudinal immunological and virological analysis of patient samples from COVID-19 cohorts. Yves Levy (Inserm-VRI) and Howard Jacob (AbbVie) provided us in a short interview with insights into the activities of this work package, its highlights and the challenges that they had to overcome.
What highlights can you share from two years with your WP team so far?   
Yves: The main highlight is the partnership. WP5 integrates complementary virologic, immunologic and OMIC-based approaches – including genomics, transcriptomics, proteomics, metabolomics and interactomics – as well as expertise in data integration. The teams are working together to foster the understanding of the physiopathology of COVID-19 by always exchanging on how results from one team can complement and support discovery of other teams. This WP also benefits from a strong collaboration between the public and private sectors.
What are or were the biggest challenges within your WP? (And how did you overcome them?)
Yves: After two years of intensive research, WP5 partners are generating a notable amount of results from complementary approaches. The biggest challenge is the integration of all of these data to capitalise on them and decipher the host-virus interaction, from the cell to the patient. This challenge was anticipated by including a partner with expertise in biological data integration and will certainly be overcome by the strong collaboration between the partners.
How has the collaboration within your WP team developed over the past two years?
Howard: Over the past two years, WP5 has gone from envisaged projects to project execution and results. Patient recruitment and experiments are well on their way to being completed and have already produced important results. COVID-19 cohorts have highlighted neutrophil activation as a hallmark of disease and identified CD177 as a prognostic marker.
CRISPR-Cas9 screens, fluxomics, phospho-proteomics, and transcriptomics experiments on both patient samples and in vitro models have yielded important insights into host genes and pathways involved in COVID response. Bioinformatics analysis has illuminated viral-host protein interactions and the mechanisms underlying genetically determined differences in viral infection and disease progression.  We are also making progress improving WP5 collaboration and data sharing.
What has surprised you about working on the CARE project?
Howard: I am pleasantly surprised by the significant progress we have made, the spirit of open collaboration, and efficient coordination of a very complex global endeavor.
What makes the work for CARE special for you and your WP team?
Howard: It is an exciting and rewarding opportunity to work with a global team of some of the worlds most talented scientists who all share a common goal of accelerating cures to one of the most severe health crises of our generation.