July 26th 2022

The faces behind the CARE work-packages – WP4
The faces behind the CARE work-packages – WP4
CARE (Corona Accelerated R&D in Europe) is the largest European research initiative addressing the challenges of COVID-19. It is no surprise that it is designed in a comprehensive, yet agile, structure to fulfill the 37 partners' shared key goals: (1) to identify therapeutics for the current pandemic, (2) to identify antiviral therapies for future outbreaks and (3) to increase the understanding of the pathophysiology of COVID-19. In a set-up of eight work-packages (WPs), the scientists and management at CARE carry out the project activities that have so far resulted in valuable learnings about COVID-19 and how it might be defeated.  
In this monthly series, we go behind the scenes through brief interviews with the leadership of each of the eight CARE work-packages to hear insights on what makes their work so special, as well as their challenges and hopes.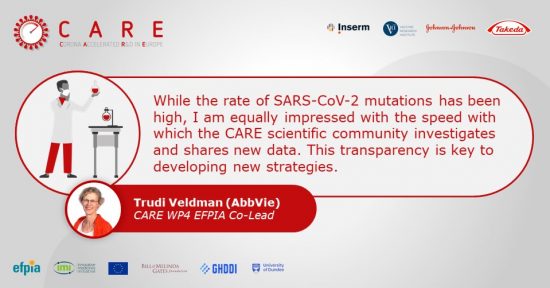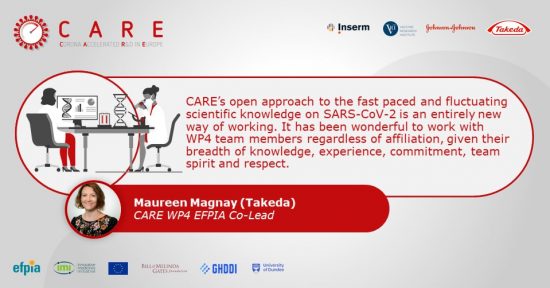 WP4 – Generation and characterization of monoclonal antibodies against SARS-CoV-2 and related coronaviruses 
The CARE work-package 4 (WP4) focuses on the generation and characterization of monoclonal antibodies against SARS-CoV-2 and related coronavirus. Trudi Veldman (AbbVie) and Maureen Magnay (Takeda), who recently took over the EFPIA co-lead of WP4, elaborated in a short interview on what the new role means to them and the WP4 team.
Taking over the WP4 industry leadership, what accomplishments are you building on?   
Trudi: We have some great partners in WP4 who have been working in the virology field for many years, whether studying HIV or coronaviruses.  Assays are in place and the rapid access to structural information about the spike protein is a key asset. The knowledge and experience that our partners bring will be instrumental in our next phase as we build a strategy for the coming years.
Maureen: After almost two years of working together, the WP4 team has built a solid foundation, respect and understanding of each other's expertise in addition to building a framework for team collaboration. Progressing to the next phase as part of CARE, we will leverage both this and the broad and deep experience that partners bring to the program.
What will change with your new role as part of the WP4 industry leadership?
Maureen: I look forward to continuing to work with WP4 members, co-leading with Trudi. Changes as co-leader will involve additional involvement in strategic discussions, updates and meetings and the wider CARE community.
What makes the work for CARE special for you and your WP team?
Maureen: The most interesting aspects of being part of CARE relate to the fact that we are an open scientific team regardless of affiliation, working towards a common highly topical goal; the output of which has potential to be incredibly beneficial to society. The open approach to the fast paced and fluctuating scientific knowledge on SARS-CoV-2 has been an entirely new way of working. It has been wonderful to work with WP4 team members, their breadth of knowledge, experience, commitment, team spirit and respect.
What have you personally learned so far through the experience of working in CARE?
Trudi: My greatest lesson is that the SARS-CoV-2 spike protein is a fast-moving target and it challenges us as it manages to escape our therapeutic antibodies whether they are designed in the laboratory or isolated from convalescent patients. The recent appearance of the Omicron variant showed that most of the potent clinical and approved antibodies became obsolete in a matter of weeks.  While the rate of SARS-CoV-2 mutations has been high, I am equally impressed with the speed with which the scientific community investigates and shares new data. This transparency is key to developing new strategies.
What aspects will you be focusing on in your new role as industry lead of WP4?
Trudi: It feels like a "reset button" has been pressed and we need to develop a strategy for CARE and WP4 that makes sense in the light of our current knowledge. The big question is whether we can identify epitopes on the spike protein that are conserved, not sensitive to antigenic shift and when targeted with an antibody would prevent infection.
How will the two of you work together sharing the WP4 industry leadership?
Trudi: We will likely divvy up some responsibilities as we settle into this role, but the main reason for doing this together is to have somebody to bounce ideas off while we figure out where to go next as a team.