November 16th 2023

Introducing Ai-biopharma – a CARE SME organisation
Introducing Ai-biopharma – a CARE SME organisation

Ai-biopharma was set up in 2018 by Dr Cyril B. Dousson. It is a Biopharma company which specializes in research into medicinal chemistry of preclinical drug candidates, based in France.
Ai-biopharma is an early-stage small molecule drug discovery company advancing its antiviral programmes based on a proprietary Chemoinformatic and Artificial Intelligence platform. To support the design and accelerate the discovery effort of new preclinical candidate drugs, the company has developed in-silico solutions of chemoinformatics, molecular modelling, docking, data analysis, Structure Activity Relationship (SAR), proprietary database software and also an artificial intelligence platform.
The company is developing, in its laboratories, innovative drug candidates for certain viral diseases, including Hepatitis B and SARS-CoV-2.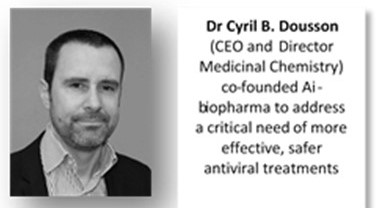 Why did Ai-biopharma choose to get involved in CARE?
Ai-biopharma decided to get involved with CARE based on its founding team's extensive antiviral expertise. They believed that direct acting antivirals such as polymerase inhibitors would be the best answer to SARS-CoV-2 viral replication and variants coverage.
What has Ai-biopharma delivered for CARE?
Ai-biopharma's achievements in CARE include the screening of a selected Direct Antivirals library (Work Package 1), the in silico screening against NSP12 of large in house virtual libraries designed for polymerase inhibition (Work Package 2), selection of potential hits from the screening (Work Package 2) and confirmation of four hit series of polymerase-like inhibitors. These series are currently advancing to move to the potential selection of a lead candidate (Work Package 3).
For more information about the different work packages, please click here.
In addition to Dr. Dousson, the Ai-biopharma team includes